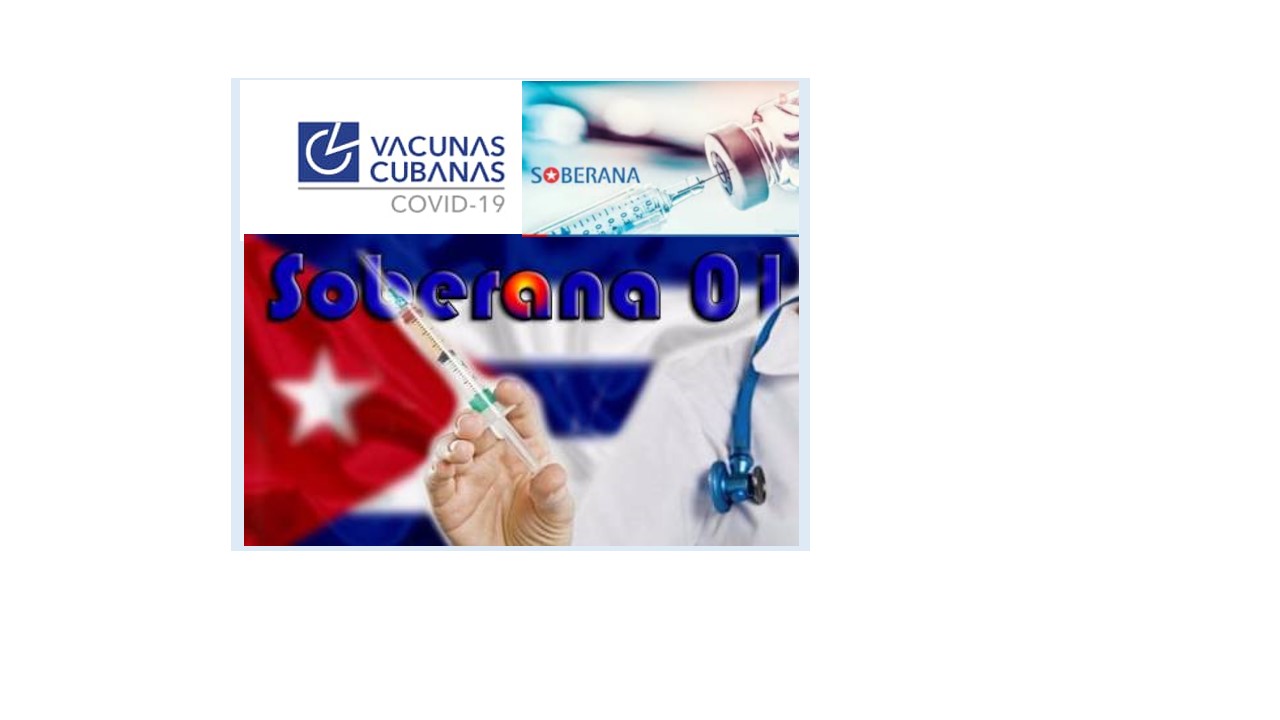 Cuba in the race for coronavirus vaccines
Professor Beatriz Marcheco-Teruel, Vice President of CAREST, reports on Cuba's progress in the development of vaccines against Covid-19.
Cuba has developed four vaccine candidates for the prevention of SARS-CoV-2 infection, which are in the clinical trial phase in humans. The Finlay Vaccine Institute (IFV), in collaboration with the Molecular Immunology Center and the Faculty of Chemistry of the University of Havana, developed 2 vaccine candidates: SOBERANA 01 and SOBERANA 02.
SOBERANA 01: the first candidate, SOBERANA 01, is a subunit vaccine that combines a recombinant RBD (receptor-binding domain) molecule dimer with the anti-meningococcal B Cuban vaccine outer membrane vesicle platform, which acts as an adjuvant or immuno-enhancing. In August 2020, it was started as the clinical trial "Phase I / II, randomized-controlled, adaptive, double-blinded, multicenter study to evaluate the safety, reactogenicity and immunogenicity of the prophylactic Vaccine Candidate FINLAY-FR-1 anti SARS-CoV-2 (SOBERANA 01) in a two-dose scheme". It became the first candidate from a Latin American country that had managed to start clinical trials in humans around the world. This near-completion trial seeks to test the safety and immunogenicity of the vaccine candidate administered to volunteers between the ages of 19 and 80, as well as people with controlled comorbidities. SOBERANA 01 has 5 formulations that differ in the proportions of their components and have been evaluated in order to be able to select the optimal one to advance to the next phases of clinical trials.
On January 9th, 2021 a new Phase I clinical trial began in convalescent COVID-19 patients aged between 19 and 59 years, who suffered from the asymptomatic or mild forms of the disease and in whom low titers of neutralizing antibodies after infection have been reported. This latest trial includes only a single booster dose of SOBERANA 01, and is the only one in the world targeting this population group. The analysis of the formulations was concluded in December 2020 and the safety, low reactogenicity of the product and its adequate immunogenicity were verified. A phase II / III clinical trial with this candidate is expected to begin in February 2021.
SOBERANA 02: the candidate SOBERANA 02 is an innovative vaccine. Its novelty is that it is a conjugate vaccine, the immunogen is the same as SOBERANA 01, the receptor-binding domain (RBD), which in this case is chemically linked to tetanus toxoid. This candidate has 2 formulations and its first phase I trial was approved in October 2020 with a 2-dose schedule. After its positive results, Phase II began in December 2020. In January 2021, the expanded phase IIb clinical trial began with this candidate, comprising 900 people between 19 and 80 years old. In February 2021, a trial will begin in the pediatric population with SOBERANA 02 and the phase III trial is expected to begin in March 2021.
Among the pending challenges, there is one that every vaccine faces: the possibility of failure in more advanced and complex phases of clinical trials. In addition, there are the development challenges imposed by the low prevalence of the disease in Cuba (with 300 cases a day). There is already an agreement with the Pasteur Institute of Iran, to carry out part of phase III of the clinical trials of SOBERANA 02 in the Persian country, where the prevalence is three times higher than Cuba.
Mambisa and Abdala: the Center for Genetic Engineering and Biotechnology (CIGB) has developed two other vaccine candidates: Mambisa (CIGB-669) and Abdala (CIGB-66). Phase I clinical trials were approved in November 2020 in Havana and Santiago de Cuba respectively, in volunteers aged between 18 and 54 years. Mambisa has the peculiarity of being administered intra-nasally, while Abdala will be administered intramuscularly. Preliminary results support few adverse reactions and an adequate safety profile for these candidates. The phase II trial with Abdala is expected to begin in February 2021 and will include between 600 and 800 volunteers aged between 19 and 80 years. These 4 candidates place Cuba at the forefront of countries whose efforts are aimed at preventing COVID-19.
Cuba would be able to "immunize the Cuban population against the SARS-CoV-2 virus in the first half of 2021". It will also be necessary to approve its emergency use for prioritized groups without completing phase III, as did the Russian Gamaleya Institute and the Chinese companies Sinopharm and Sinovac.