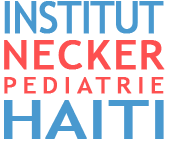 Institut Necker Pediatrie Haïti
Necker Pediatric Institute in Haïti
Non-profit organization governed by the French law of 1901 No. W751211457 aimed support to pediatrics in Haiti
Necker Institute – 156 rue de Vaugirard – 75015 PARIS
Tel: +33 (0) 6 80 63 20 63 or +33 (0) 6 07 32 88 18 – email: inph2010@gmail.com
Account managed by the Institute Necker

The creation of this organization born after the earthquake ( January 2012) , from a will of professor Gerard Lenoir, to Haitian Children by helping the Haitian pediatric community; This association should be adapted, efficient and sustainable .
At the premature disappearance of Professor Gérard Lenoir, his colleagues of the Institute Necker, at the request of the Haitian pediatric community, formalized the creation of the "INPH" association for the development and strengthening of pediatric projects in Haiti.
Institut Necker Pédiatrique en Haiti ou ( Necker Pediatric Institute in Haiti) "I.N.P.H." therefore aims to ensure medical quality training tailored to the needs of the country.
INPH is part of the Institute Necker, closely related to the Necker Children's Hospital in Paris France.
http://www.inph.fr/inph.php