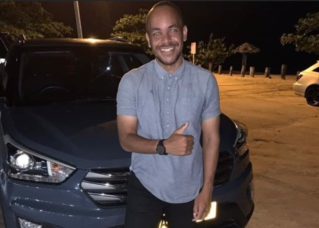 St George's General Hospital of Grenada and CAREST in mourning
Tribute to Dr. Darville Raye, pillar of Sickle Cell Care for the children of Grenada who died so young.
His colleagues mourn him as well as CAREST, which he joined as the representative of Grenada at 5th Caribbean Conference on Sickle Cell Disease and Thalassemia organized by "CAREST" and "GR-Ex" in October 2018 in French Guiana
Testimony of his colleagues
With a heavy heart we inform you all of the sudden and untimely passing of our dear colleague Dr Darville Raye.
Dr Raye had been a member of the Pediatric Department at the St George's General Hospital since 2016 when he joined the ranks as a House Officer. Over the ensuing years he became a stalwart in the field of pediatrics, especially to neonates as he was mainly assigned to the Special Care Nursery and Maternity Ward, and has furnished an immeasurable contribution to the children and families in Grenada.
As a colleague, Dr Raye demonstrated the high ideals expected of the profession. He was dependable and went the extra mile unwaveringly. He was respected and a strong resource to junior colleagues and nursing staff; he could be called upon for assistance at any time, even after he completed his daily assigned tasks. There was never a request that was too much and he never refused to help anyone
He became a member of CAREST during his tenure. In fact Dr Raye was instrumental in the re-introduction of the newborn screening program for sickle cell disease in Grenada. Additionally, he led the charge in the outpatient management of sickle cell disease as he was the main House Officer managing the outpatient clinics. This program is cherished and its impact is glaringly obvious as evidenced by decreased admissions for the management of acute crises. He represented Grenada at conferences organized by CAREST and has been a mainstay in the revision of treatment protocols for management of sickle cell disease
Dr Raye will be sorely missed. As Dr Raye never took any vacation time during his 5 year tenure, despite strong urging to do so, we hope that he can finally rest in peace
Farewell colleague and friend.